A Dual Transformation
The Digital Practitioner Body of Knowledge™ Standard [DPBoK™ 2020] defines Digital Transformation as:
"A strategy and an operating model change, in which technological advancements are leveraged to improve human experiences and operating efficiencies, and to evolve the products and services to which customers will remain loyal"
It also defines the Digital Enterprise as:
"An enterprise characterized by: 1. creation of digitalized products or services that are either delivered fully digitally (e.g., digital media or online banking), or 2. where physical products and services are obtained by the customer by digital means (e.g., online car-sharing services)"
The digital enterprise is about applying digital technology to adapt or change:
The strategy of the enterprise

The product or service it markets

The experience it delivers to customers, employees, and other stakeholders

Its operating system
The Agile enterprise senses changes in its environment early and acts upon them decisively and rapidly.
Figure 1. Architecting the Dual Digital/Agile Transformation
Why Organizational Agility Matters
Mike Sutcliff and his co-authors conducted a survey among 1,350 executives to discover why Digital Transformations fail [Sutcliff 2019]. The number one reason given for failure is the unspoken disagreements between top managers about goals. The recommendation is to "define and articulate not only the opportunity but also the problem it solves, and how the company will build the organization around the desired solution before investing".
Tim Fountaine and his co-authors show that technology is not the biggest challenge when building the AI-powered organization [Fountaine 2019]: "Cutting-edge technology and talent are not enough. Companies must break down organizational and cultural barriers that stand in AI's way".
These two articles and surveys show that:
Organizational agility is required to support scaling beyond the pilot stage

Addressing the organizational and soft aspects of Digital Transformation is a key success factor
In order to become Agile, the organization must:
Shift from siloed work to interdisciplinary collaboration, because digital technology has the biggest impact when leveraged by cross-functional teams that are aligned on outcomes

Empower decentralized decision-making, because business agility requires vigilant organizations capable of seeing risks and opportunities sooner, and positioning themselves to act faster to address them [Day 2019]
The enterprise culture needs to shift from experience-based to fact-based decision-making. Amazon™ epitomizes this shift. Ram Charan reports that "everything that matters can be tracked, measured, and analyzed, with insights generated and routine decisions automated …​ It liberates Bezos, executives, and frontline employees at Amazon from managing routine daily chores and the inevitable bureaucracy associated" [Charan 2019].
The digital enterprise needs to deliver a consistent user (customer, employee, or partner) experience across all touchpoints. The authors of Beyond Advertising recommend thinking about brands as touchpoint orchestrators: "the brand's multiple touchpoints and how they interact with each other, from a digital out-of-home experience to a tablet, from mobile to the store" [Wind 2016].
Connecting Touchpoints to the Operating System
Every interaction with a brand, from the first time you become aware that it exists to every touchpoint you encounter along the way in your daily life, has an impact: "From the customer perspective, touchpoints with a brand or product are not differentiated: it is the seamless experience that matters."
Touchpoints illustrates the variety of touchpoints that a brand has to orchestrate to deliver a positive customer experience.
Figure 2. Touchpoints
It can be predicted that: "Touchpoints will continue to multiply in an era where every object has the potential to become connected and interactive."
This evolution impacts the enterprise as a whole: "New structures and processes will need to allow for agility and reaping the benefits both from decentralization and, when needed, the power that leveraging through centralization facilitates."
New operating systems are required to create real-time, personalized experiences. One of their key functions is to enable touchpoint orchestration. The operating system is the combination of assets and processes required to deliver a product or a service; for a more detailed definition of operating system, see Operations Architecture.
Developing Business and Organizational Agility
Business agility is the ability to quickly identify and respond to market and environment changes. Enterprises develop business agility when they sense changes in their environment early and act upon them decisively and rapidly.
"Employees deep down in the organization may be closer to weak signals at the edge of the organization and must believe they will receive an open hearing when raising concerns or suggesting ideas". [Day 2019]
When Agile teams are vigilant and empowered to act, they are better at navigating digital turbulence than those at head office. When weak signals reach head office, they are filtered and cascaded down the organization. In this context, weak signals are the first indicator of a change or an emerging issue. This increases the likelihood that weak signals (represented by the purple parallelograms on Business Agility) will not be seen, or that no one will respond to them. This explains why head office can be slow to identify and act upon potential threats and opportunities.
Business Agility illustrates that Agile teams close to the field have enough autonomy to modify products or journeys in response to weak signals. Agile teams do not have to seek permission from head office before experimenting with responses to weak signals.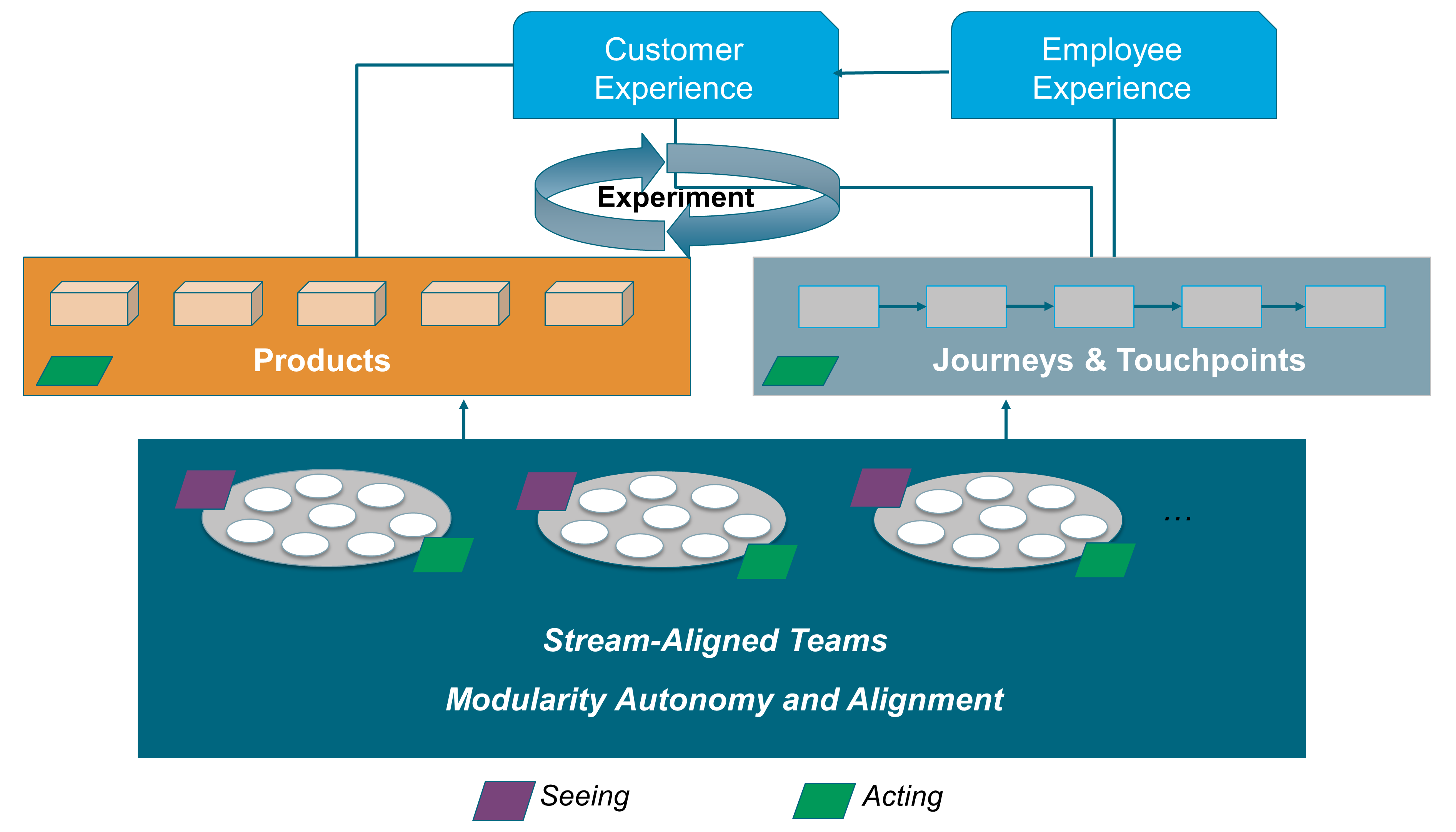 Figure 3. Business Agility
Business agility is facilitated by organizational agility because:
Agile teams are cross-functional, which brings diverse perspectives when analyzing weak signals

They share a common purpose and vision, which helps to put weak signals in perspective

Most of them are stream-aligned, which means Agile teams are directly responsible for delivering products or journeys, facilitating rapid experimentation
Digital Transformation does not have to be disruptive [Sutcliff 2019]. Business agility is about organizations learning to be capable of evolving rapidly.